---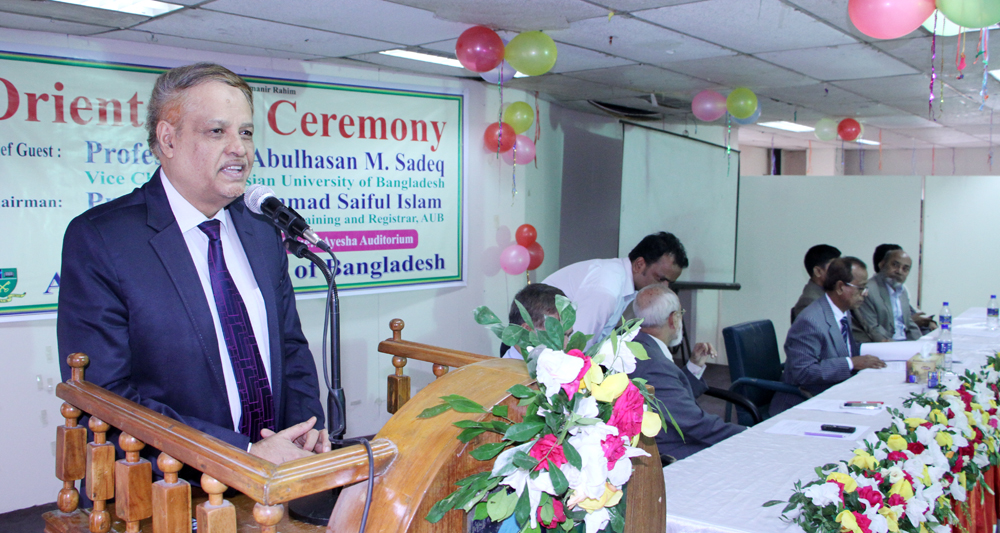 Orientation program (2nd part) held
The 2nd orientation program of Asian University of Bangladesh (AUB) held on 19th September with the new students of Fall semester, 2015 at Ayesha auditorium.
The Vice-Chancellor & the founder of the universtiy Prof. Dr. Abulhasan M. Sadeq attend the program as the chief guest. It was presided over by Prof. Dr. Mohammad Saiful Islam, Registrar, and the Dean of School of Education and Training.
Mr. Mohiuddin Nurul Absar, Controller of Examinations; learned Deans, Heads, Faculty members, and new students among others was present there.
AUB usually aranges orientation program in two parts due to the space constraint. This program was the 2nd part of the fall semester, 2015. In this program, AUB received and welcomed the new students of the Departments of Economics, Sociology & Anthorpology, Social Work, Information Science & Library Management, Bengali, Islamic Studies, Islamic History & Civilization, Government & Politics. The 1st part was held on the previous Saturday with the new students of the department of Business Administration, Computer Science & Engineering and English.